The first phase of the survey had the primary science goals of measuring the colors and spin rates of JTs and the size distribution of very faint TNOs (r≳27). The project was awarded four nights in 2020 May and four nights in 2020 September to probe both the L4 and L5 JT clouds. High cadence observations to measure lightcurves of JTs and grz colors were scheduled for both runs, and the observations were designed to discover faint TNOs and Hildas as well as JTs.
Unfortunately, our program was severely impacted by COVID-19, with Mauna Kea Observatory closing for several months in the spring of 2020. We ended up observing over two half nights in 2020 May, and four half nights in both 2020 August and 2020 October. Unfortunately, we were unable to make any color measurements due to scheduling constraints, but we were able to make a number of lightcurve measurements and detect a large number of faint TNOs. In addition, Subaru generously awarded the project three nights in 2021 February. We were unable to observe any L5 JTs during this run since the cloud had moved into the galactic disk. However, we were able to make a number of discoveries of faint TNOs and make grz color measurements of these objects.
The fields observed for the FOSSIL I program. [Click to enlarge]
Originally, the FOSSIL team proposed another intensive program for the second phase of FOSSIL to cover the rest of the FOSSIL science. However, the proposal was rejected a few times due to the schedule constraints of HSC. The team has changed the strategy and a normal proposal for the Phase II of FOSSIL is submitted in early September 2022. The proposal will ask for a total of 4 nights to focus on the probe the size distribution of the resonant TNOs, and the properties of the high-perihelion TNOs. If this proposal is successful, a new attempt will be made to make color measurements of the discovered TNOs. In addition, a new attempt will be made to make grz color measurements of the L5 JTs in the spring of 2024, since the cloud will have emerged from the Galactic Disk by this time.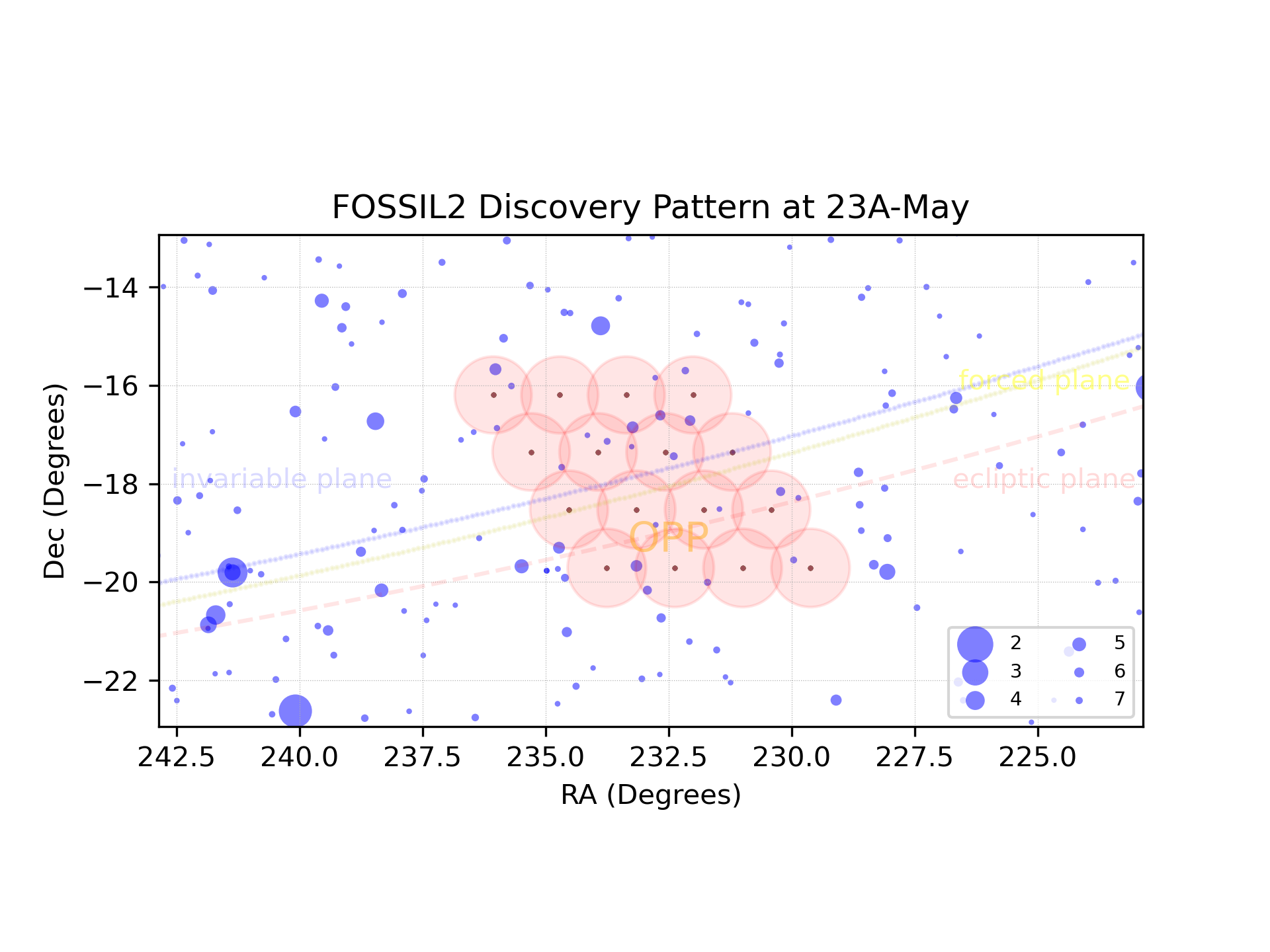 The two possible field blocks shown by the squares for FOSSIL II observations. [Click to enlarge]